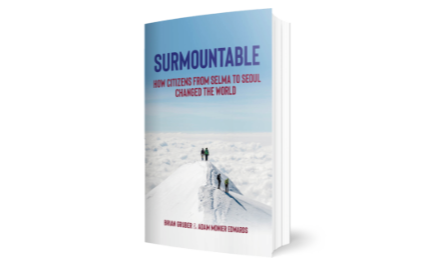 Surmountable: How Citizens from Selma to Seoul Changed the World
By Brian Gruber & Adam Monier Edwards
Buy Now on Amazon
Surmountable is the book written for the millions of people who have been interested in social movements, but have been disheartened by their recent lack of progress. If you are tired of signing petitions that are ignored by politicians and corporations or demonstrating without seeing any results, co-authors Brian Gruber and Adam Monier Edwards present 13 optimistic stories from across 4 continents to show how social change has been successful in the face of seemingly insurmountable odds.
There are plenty of first-hand accounts written about individual initiatives, philosophical treatises about what drives people, and academic theories about how one should act. Surmountable is the first real world analysis that includes over 40 original interviews with activists, historians, and citizens near key landmarks to inspire the next generation by offering practical insights on how to make a difference.
---
As seen and heard on...
"Surmountable is required reading for any aspiring change agent who seeks to understand the sacrifices and contributions of past trailblazers and apply their lessons to solve our society's greatest challenges."
– Jocelyn Benson, Michigan Secretary of State
Featuring original interviews with...
| Activists | Scholars | Curators |
| --- | --- | --- |
| LaDonna Brave Bull Allard, Standing Rock NoDAPL co-founder | Hong-koo Han, Sungkonghoe University professor | Lucy Beard, Alice Paul Institute executive director |
| Gregory Watson, driving force behind the 27th Amendment | Todd Gitlin, Columbia University professor | Sam Walker, National Voting Rights Museum and Institute historian |
| Kalle Lasn, Occupy Wall Street co-creator | Colleen Sheehan, Villanova University professor | Brewster Kahle, Internet Archive and Alexa Internet co-founder |
| Jay O'Neal, West Virginia teacher strike leader | Paul Matzko, Cato Institute research fellow | Sergii Karchuk, Ukraine event organizer |
---
© 2021 Surmountable, PBC. Printed in the USA on FSC and SFI sustainable paper, 340 pages. E-book also available.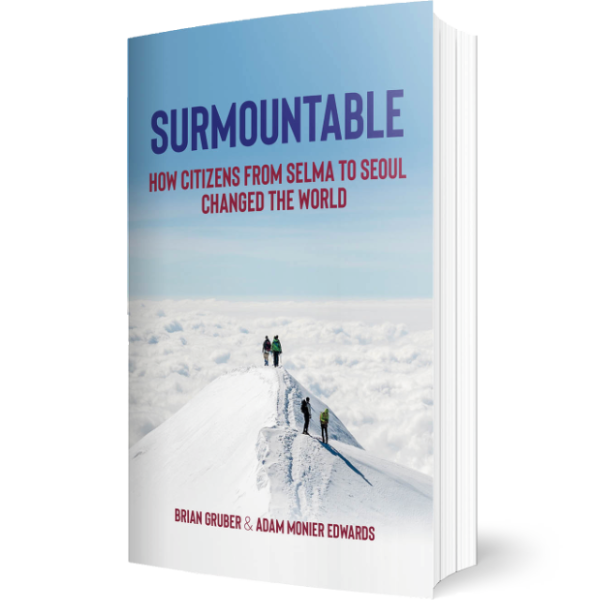 Now that you have read it, inspired to act but wondering what you can do next?